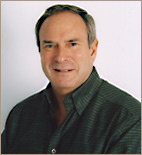 Fred Harwin was awarded a Bachelor of Fine Arts degree in interior architecture, drawing and painting from Wayne State University. He then went on to receive his Master of Science degree in medical and biological illustration from the University of Michigan.
After completing school, Harwin served as the Director of Medical Illustration at Wayne County General Hospital, a teaching affiliate of the University of Michigan. He later joined the faculty at Oregon Health Sciences University in Portland, Ore. Harwin has also taught at Portland State University, the Oregon Museum of Science and Industry and was an Adjunct Professor of Medical Illustration at the University of California's San Francisco Medical Center.
He also serves as an adjunct faculty member with the Department of Art as Applied to Medicine at The Johns Hopkins School of Medicine.
Training & Credentials
Wayne State University, B. F. A.
University of Michigan, M. Sc. Medical Illustration
Sabbatical Year, Oregon Health and Science University
Board Certified Ocularist
FDA Approved Ocularist
Board Approved Diplomate Ocularist, BADO
Fellow, Association Medical Illustrators
Current Appointments
Advisor, The Center for Ocular Prosthetics, LLC
Adjunct Assistant Professor, Johns Hopkins Medical School
Previous Work & Positions
Co-Author/Medical Illustrator, Manual of Cardiac Surgery, Vol. I & II
Medical Illustrator, affiliate teaching hospital, University of Michigan
Assistant Professor, Department Director, Medical Graphics, Oregon Health and Science University
Adjunct Professor, University of San Francisco Medical School
Consulting Editor, Springer Verlag: New York, Heidelberg, Berlin, Vienna
Portland State University, Adjunct Instructor
Pacific Northwest College of Art, Adjunct Instructor
Oregon Museum of Science and Industry, Adjunct Instructor
Cleveland Clinic/Cleveland Institute of Art, Adjunct Professor
Advisory Council, Medical College of Georgia
Medical Illustrator/ Consultant, WL. Gore and Associates
Fred Harwin also helped found Harwin Studios alongside his wife Sara Harwin. See more about her work at : www.harwinstudios.com