Fred Harwin's pioneering work as a medical illustrator along with other illustrations are now part of the OHSU (Oregon Health Sciences University) Historical Collections and Archives and featured in a post titled Illustrating Medicine: The Visionary Work of Fred Harwin. The numerous illustrations obtained by the archive serve as a testament to Fred Harwin's significant contribution to the field. Each illustration shines a spotlight on his remarkable expertise and innovative approach.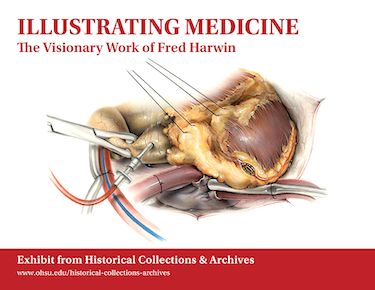 Drawings from the Fred Harwin collection (1965-2022) trace Fred Harwin's career as a medical illustrator through a showcase of his original, unaltered illustrations, early drawing techniques, commercial work, and his later work as an ocularist.
These materials are of special significance to OHSU and the larger medical community. While at OHSU, Harwin, in his capacity as illustrator, collaborated with renowned cardiac surgeons Dr. Brad Harlan and Dr. Albert Starr on the Manual of Cardiac Surgery, first published in 1980 with a second edition in 1994. This included placement of the famed Starr-Edwards heart valve, which was the first successful prosthetic device implanted in a human to replace a non functioning mitral valve and marked a new era in the treatment of valvular heart disease. The manual revolutionized the field of medical texts by presenting a unique viewpoint from the Chief Surgeon. This perspective provided an extraordinary glimpse into live surgeries, employing vivid and genuine colors. Moreover, the manual showcased a remarkable technique capable of depicting all four layers of anatomy within a single illustration.